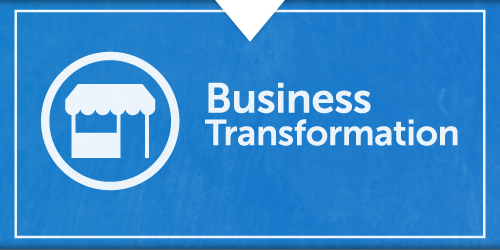 Many organizations have experience making Incremental change, but few organizations have the experience to make the bold moves and tough decisions required to truly transform the business. Change initiatives will make discrete modification to improve how business is done. Transformation, however, involves changing the nature of the organization (i.e. systemic shifts) in order to do business differently.
The problem is that many organizations are trying to make transformation happen by applying a few change management techniques. Business transformation requires a different approach and a deeper understanding of the business itself.
Startups experience transformation on a  nearly constant basis, and can become quite good at quickly moving through the transformation life-cycle. However, when they reach a certain level of maturity, they need more traditional change methods in order to capitalize on the stability required to grow as a healthy organization.
Established companies, on the other hand, will frequently be overly dependent on the stability they have created, and are not willing to take the risks necessary to implement "bet the business" transformation, even when there is every indication that they MUST make a bold move in order to survive, let alone thrive.
Get One-day Legendary Intensive and begin your new journey
Assessments
Strategy Assessment
Leadership Assessment
Organizational Design Assessment
Organizational Design and Development
Vision + Mission + Values Development
Strategy Development Planning
Systemic Organizational Design
Role and Domain Clarity
Story
The most important story you will ever tell is the story that you tell about yourself and to yourself. Our One-day intensive relies heavily on the Power of Story™ to help you write your destiny in business and in life.
Purpose
You are unique amongst everyone on the planet. You have special gifts, talents, strengths and passions and there is a mission that only you can accomplish. At the end of your one-day session you will have clarity around your unique and compelling purpose.
Coaching
Executive Coaching
Leadership Development Coaching
Leadership Transition Coaching
Emerging Leader Coaching
Organizational Effectiveness
Values based Cultural Transformation ("Culture in Motion®")
Team Effectiveness
Organizational Transformation
Sustainable and Disruptive Innovation
Individual coaching can help prepare you to perform at your best when it matters the most. Camelot offers one-on-one coaching in leadership development, strategy, performance, execution and personal work-life issues.
We go far beyond canned leadership advice. We have curated some of the most powerful and effective leadership tools available. Our ability to help you apply the right solution to your leadership challenges is where we excel.
In addition to leadership coaching, Camelot provides business coaching for executive leaders, small-business owners and entrepreneurs. We help you to define your organizations mission, clarify your core values, define a powerful and flexible strategy and architect an organizational structure that is adaptable to a changing market.
Are you ready to take the next step?