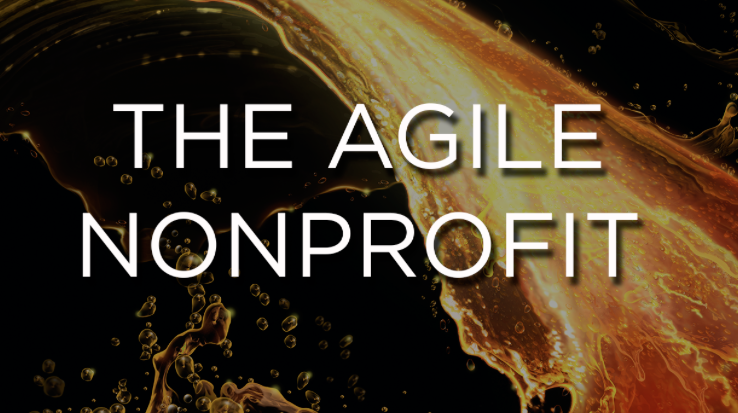 The Agile Nonprofit™ is a successful enterprise that never loses sight of the missions and has a healthy culture,  produces maximum effectiveness and runs efficiently. Agile nonprofits are not so lean as to be anemic, but are healthy, well-balanced organizations focused equally on mission success and business effectiveness.
Camelot's Agile Nonprofit™ services combine a powerful balance of concepts from lean manufacturing, agile development, values-based leadership and proven business practices to assure mission success.
Creating an organization that is agile does not simply happen. You have to be intentional about choosing core values, defining a clear strategy, engineering the right culture, building the right structure, aligning key roles and utilizing the right internal funding models to work smarter and not harder.
The Agile Nonprofit™ Framework
Camelot's proprietary nonprofit systemic framework is built on a modified version of the Business Model Canvas initially proposed by Alexander Osterwalder. Taking into account the unique attributes that drive nonprofits toward mission success the model creates a fusion of entrepreneurial startup and enterprise management. Placing a strong emphasis on outcomes over profit, Camelot's framework allows a nonprofit to make incremental or disruptive innovation and plan strategic pivots while assuring mission success.
Camelot's proprietary framework allows you to look at every aspect of your nonprofit to create a practical strategy to accomplish your mission. These innovative techniques permit you to systematically understand, design, and implement a new business model – or analyze and renovate an existing one.
Become The Agile Nonprofit
Beneficiaries
For whom are we creating value?
Who is most important in our nonprofit ecosystem?
Who will benefit from our programs?
Donor Segments
Who is driving the economic engine for the mission?
What does the donor wish to accomplish?
What is the motivation behind their giving?
Beneficiary Outcomes
What value is being created for our beneficiaries?
Which outcomes are most critical to our beneficiaries?
Which outcomes are most desired by our Donor Segments?
How will we measure outcome impact?
Donor Relationships
What type of relationship does each of our Donor Segments expect us to establish and maintain with them?
Which ones have we already established?
How are they integrated with the rest of our model?
How expensive are they?
Program Delivery Channels
How will we deliver value to our Beneficiaries?
How do our Beneficiaries want to receive our Program?
How are our Programs integrated with our Donor Channels?
Which of our Programs work the best?
Which of our Programs are more cost effective?
Donor Channels
Through which channels do our Donor Segments want to be reached?
How are we reaching them now?
How are our channels integrated?
Which ones work best?
Which ones are most cost effective?
How are we integrating them with Donor routines?
How are we connecting them with Beneficiary outcomes?
Key Program Partners
Who are our Key Program Partners?
Who are our Key Program Suppliers?
Which of our Programs are being delivered by our Program Partners?
What are the metrics that we use to determine Partner success?
Revenue Streams
What value are the Donors looking to achieve?
What value are our Donors willing to pay for?
How do our Donors prefer to pay?
How much does each revenue stream contribute to Beneficiary Outcomes?
Key Activities
What key Activities do our Programs require to achieve our Value Proposition?
What Key Activities are required to generate our Revenue Streams?
What key Activities require Key Resources?
Cost Structure
What are the most important costs inherent in our model?
What % of revenue will be spent on administrative activities?
Which key resources are most expensive?
Which key activities are most expensive?
Key Resources
What Key Resources do our Programs require to achieve our Value Proposition?
What Key Resources are required to enable our Revenue Streams?
What Key Resources are required to Achieve the desires of our Donor Segments?
Key Business Partners
Who are our Key Business Partners?
Who are our Key Business Suppliers?
Which of our resources are we acquiring from them?
Which Key Activities do our Key Business Partners perform?
Value Propositions
What Value do we deliver to our Beneficiaries?
What Beneficiary problems are we helping to solve?
What Programs are we offering to which Beneficiaries?
Which Beneficiary Needs are we solving?
Which Donor Segment need are we solving by serving our Beneficiaries?
Are you ready to take the next step?
[contact-form-7 404 "Not Found"]